Thursday, January 8, 2009
Posted by Darius Wey in "Digital Home Events" @ 03:45 AM
Ballmer took the stage once again to discuss the future of computing. He stressed that it was one that would focus heavily on improved processing power, cheaper high-definition displays, and cross-platform applications that would learn your habits, understand your preferences, and predict your needs.
Janet Galore joined Ballmer on stage to demonstrate prototypes that will hopefully enhance the quality of education in the future. The first prototype was a tablet displaying an interactive anatomical map of the human body. But that wasn't all that it was capable of. The device was able to anticipate what resources she might be interested in as a student, and semantically analyze said resources with Microsoft Research algorithms to deliver information relevant to her studies. Add in automatic translation and timelines and you have a device that is probably an absolute boon to medical students.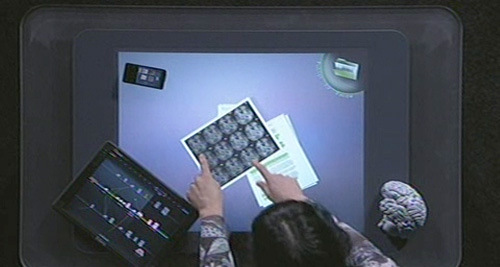 Galore then briefly demonstrated the Surface's ability to interact with the tablet, a smartphone (an HTC Touch Diamond, maybe), and a plastic model of the human brain. And after a quick look at a flexible colour display, the keynote was over.
If you had high expectations coming into this keynote, there's a good chance you're reading this now feeling sorely disappointed. This year's keynote focused heavily on the achievements of 2008 and less on the technological advancements expected in 2009. Other than some major Windows 7 and Windows Live announcements, it was a rather dry keynote, especially for Windows Mobile, Xbox, and Zune. But there's always next time.
To Ballmer's credit, he certainly filled Gates' shoes very well, or as Shapiro put it, filled Gates' sweater very well.
Darius Wey is a software and web developer based in Perth, Australia, with an avid interest in photography, music, mobile devices, and the Xbox 360. He never seems able to come up with a witty remark to end his bio. Maybe you can help him.

Do you enjoy using new hardware, software and accessories, then sharing your experience with others? Then join us on the Thoughts Media Review Team! We're looking for individuals who find it fun to test new gear and give their honest opinions about the experience. It's a volunteer role with some great perks. Interested? Then click here for more information.

---