Friday, October 2, 2009
Posted by David Tucker in "Zune News" @ 08:30 AM
Vaja is well known for the luxurious leather cases for pretty much any personal electronic device that you can think of. Therefore it should come as no surprise that they've released a leather case for the Zune HD. The price is actually very reasonable for a Vaja case, starting at only $50 and I'm sure the leather quality is top notch. However, I do have a couple of concerns.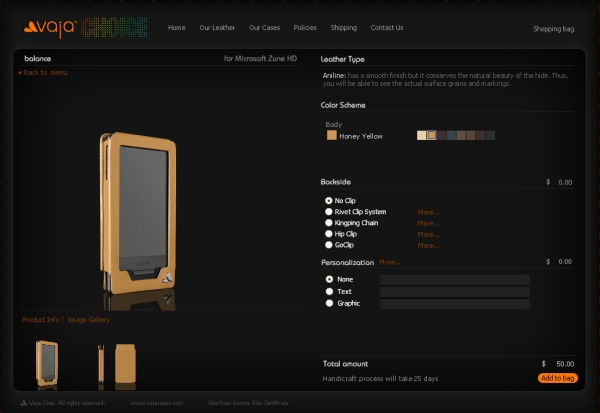 The first is a minor quibble but, all the same, I am not very impressed by their leather color selection. The colors they have are rather dull and the number of options is tiny compared to what I'm used to seeing with Vaja.
The other issue that is more troubling comes from my experience with the case I have for my Zune 80. This is a common issue with cases I've seen in general but the Zune 80 case has a clear plastic shield to protect the screen. Unfortunately over the course of the past year, the protector has become so scratched that it renders the case difficult to use since it also serves as a stand to watch video. Not to mention it looks horrible.
And this isn't scratching from harsh objects. It's just putting it in and out of my pocket. I assure you that my Zune's screen would not be the least bit scratched from that if I chose not to use the case (which I have done now.)
---