Thursday, January 15, 2009
Posted by Jason Dunn in "Zune Hardware" @ 12:35 PM
"Starting today, Zune Originals, the online design studio that lets people customize Zune players with detailed laser engraving, is launching a new collection of Valentine's Day designs. Inspired by themes of music and love, the new collection features designs from artists like Canadian Gary Fernandez, Sanna Annukka and Si Scott that will make a great personalized gift for your sweetheart. Zune will offer customers free engraving (a $15 CDN value) for any design in the Valentine's Collection between January 15 and February 14. Zune is also making the Zune 120GB device widely available in red just in time for Valentine's Day at ZuneOriginals.ca and at major retailers nationwide including Amazon.ca (www.amazon.ca/zune), Future Shop and Best Buy."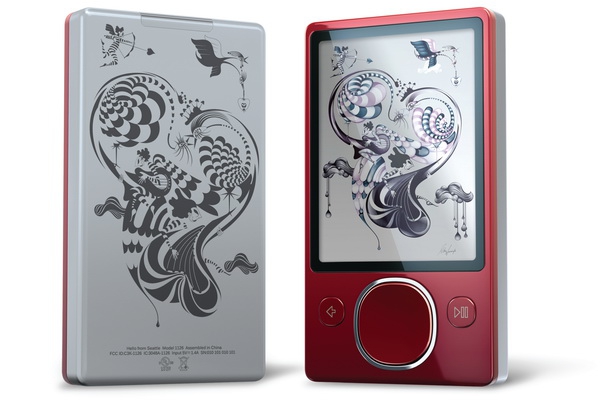 The Zune in Canada still has no Marketplace, or Zune Pass, but that isn't stopping the Zune Canada team from releasing some splashy new designs in time for Valentine's Day. Can you sense my frustration at still having a half-launched product in this market six months later? That's a topic for another time. Here are the new artists who have contributed designs:
• "Gary Fernandez - new contributing artist to Zune Originals, this Vancouver BC-based illustrator and graphic designer created a fluid and rhythmic composition that represents the idea that music and love make the world go around.
• Rubens LP - a Brazilian-born illustrator who's new to Zune Originals says this piece is about kissing. That moment when time stops and 2 lovers find each other and the world disappears.
• Sanna Annukka - also a new contributor to Zune Originals, this design by Finnish-English illustrator and printmaker depicts two song birds entwined amidst a garden of flowers which are encouraged by music to blossom into explosions of pattern.
• Si Scott - new to Zune Originals and known for his unique blend of hand-inked design mixed with modern & traditional typography, Scott uses swans (known to mate for life) in his design to convey the universal belief that there's a true soul mate for everybody.
• Tado - second-time contributors to Zune Originals, the design-duo explains that this design is a light-hearted twist on a classic romantic evening."
As we get new product photos for the designs (the above one is the only one the PR firm has) we'll post them.
---