Thursday, August 30, 2007
Posted by Jason Dunn in "Zune Talk" @ 01:56 PM
"Here are the first shots of the Zune 2 and Zune Flash. The images reveal an 80GB version and a 4GB and 8GB flash model. Not sure what's going on with that interesting controller, but it looks like a real button, but is just wide enough that it may have touch-sensitive properties. These photos came from a source who cites marketing materials, likely from the retail channel, but were confirmed by a second source as well. Does that mean they're final? I don't know. If I were Microsoft, I might seed the internet with mockups as to confuse. Oh, how I love counterintelligence measures. So take them with a grain of salt, confirmed as something, but still unofficial."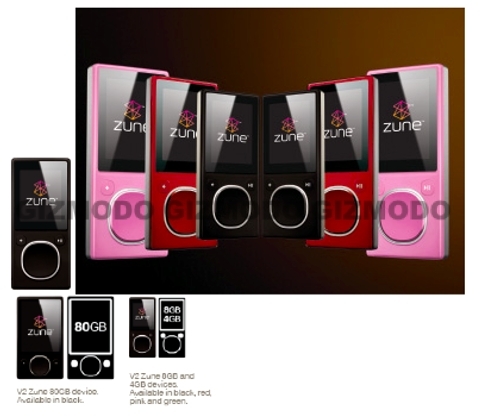 Just like the nice man at Gizmodo says, this could be nothing more than a ruse - but it's by far the most realistic one I've seen so far. You'll notice I never posted any of that "Draco" or "Scorpio" junk - it takes more than "I heard this thing from this guy who knows a guy" for me to call that "news". Even a rumour needs to have some specifics or be substantiated in some way in order for it to be taken seriously. At any rate, this is looking quite interesting - based on the image above, I can glean the following details:
The new Flash-based Zune will be available in 8 GB and 4 GB capacities
Colours for the new Flash-based Zune will be black, red, pink and green
The new Flash-based Zune has a bigger control pad and the buttons are up higher

It looks like the current chunky Zune will stick around, but be offered with an 80 GB hard drive and be available only in black
My analysis? While 4 GB might seem "small" to us, the average person in North America still doesn't have 4 GB worth of digital music - so they need to have that "small" size. But topping out at 8 GB? A big mistake in my opinion - with the new
Zen Vision offering up to 16 GB of storage
[affiliate], and an SD card slot to expand it even more, I think Microsoft is making a mistake by not offering a Zune that at least matches what the competition does. 4 GB and 8 GB storage capacities match the
previous
generation of MP3 players, not the
next
generation - and the Zune desperately needs a "wow" product.
Regarding the hard-drive based player - I'm a bit puzzled. 80 GB is a capacity they should have offered right out of the gate last year, to at least match what Apple has on the high end. They didn't, and I believe they missed out on a great opportunity. So here we have the next generation and they're releasing a product that matches what Apple had last year. Seeing a pattern here? I think 80 GB is a good capacity mind you, but if that's the only change that has been made, then I'll be disappointed. If it was a 640 x 480 screen with 16.7 million colours, the device was thinner, and more codecs were supported on the device (h.264, Divx, DVR-MS, etc.) then maybe this would be a compelling device.
That's my take on this - what's yours?
---