Tuesday, September 15, 2009
Posted by David Tucker in "Zune News" @ 08:00 AM
"...in an attempt to help you size up the Zune HD, here is a photo with hopefully a player that you already own. Full resolution photo after the break."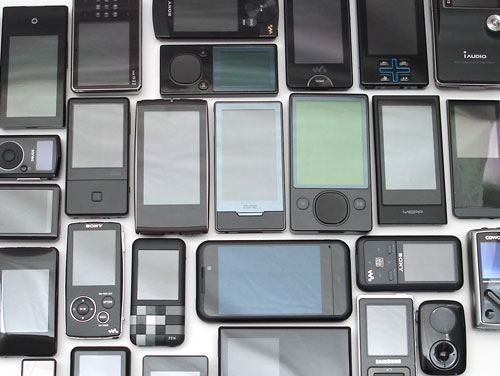 There's two important things we can take away from this picture. AnythingButIpod has a lot of MP3 players! More importantly, if you haven't been able to touch a Zune HD yet in person (like myself), you can see how it sizes up against other PMPs. One thing I notice when looking at the picture is how well Microsoft used the surface of the device. There's not a ton of bezel to make the Zune HD too much larger than the screen.
I'm looking forward to going to the store and playing with one in person (I am waiting on a 64 GB model before I play with one full time!) to see how it really feels but visually I think it stacks up very nicely in size to the other players. AnythingButIpod has a nice high resolution shot of all of these PMPs together!
---