Wednesday, November 19, 2008
Posted by Adam Krebs in "Zune Talk" @ 09:45 PM
"Since it first landed two years ago, the Zune has been the butt of many jokes, like how its wireless music sharing feature would be great, if only a second person would buy one. But while Apple Inc. has counted on the sex appeal of its ever-thinner devices to keep consumers turned on, the Zune team has been beefing up its software and courting artists like Common, a dashing MC with mainstream appeal who might just help make Zune — dare we say it? — cool."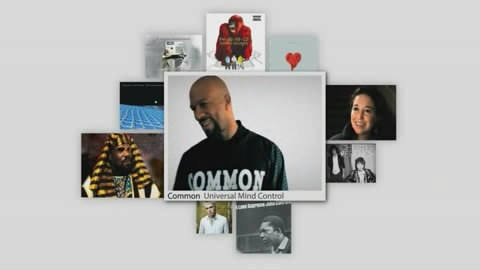 Common has been promoting with Zune since he performed on the Los Angeles leg of Summer 2007's Live at the BBQ Concert series. Zune sponsored his most recent tour, which he used to promote his forthcoming album, Universal Mind Control. Perhaps in an attempt to return the favor, the video for the epynonymous lead single, Universal Mind Control, features a Zune in the opening and closing shots. Though both Common and Microsoft deny any monetary compensation for the placement in the video, Common has since appeared in the latest round of Zune ads, alongside hip hop legend Afrika Bambaataa. The spot, which promotes the Zune software's new "Mixview" feature, attempts to show the relationship between the Neptunes-produced Universal Mind Control and similar-sounding tracks made years ago by Bambaataa and his group, the Soulsonic Force. Mixview has been promoted by Microsoft as a music discovery tool which visually showcases relationships between artists, their influences, influencers, and contemporaries, and is at the center of a new multi-million dollar campaign headed by noted ad firm Crispin Porter + Bogusky, who have previously worked on Microsoft's I am A PC campaign and Burger King's Subservient Chicken viral campaign.
I'm a huge fan of Common's music, and ate up every minute of Cesar's interview with him when he visited the Zune offices in September (my brother had a similar experience with Common when the artist came into the Obama election headquarters to make get-out-the-vote phone calls). And I love the simplicity of the spot itself; it seems for the first time the Zune marketing guys have gotten out of their own heads and actually showcased the product itself. While it's not quite on par with Apple's "This is how you use the App Store" commercials for the iPhone, it's certainly much better than the launch ads. Hopefully Common and CP+B can finally inject some much-needed mass appeal into the Zune marketing campaign. The ad runs this week on most networks that target 18-25 year-olds (MTV, Comedy Central, Adult Swim), and during both the Sunday and Monday Night Football games.
---