Thursday, September 28, 2006
Posted by Jason Dunn in "Zune Media" @ 11:36 AM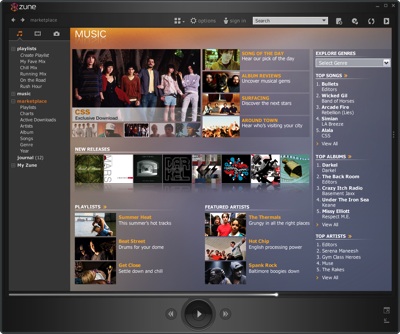 There's not much to go on here, but the first official details about Zune Marketplace have emerged: the all-you-can-eat subscription cost will be $14.99 USD per month, and the service will contain "millions" of songs. Individual songs will cost 79 Microsoft Points, which work out to 99 cents USD. And that's it for the official information.
Let's unpack that a little - first, the pricing at $14.99 USD. That's the same as Napster with a
NapsterToGo
subscription, which is what is required for playback on devices. It's 50% more expensive than the
Yahoo! Music Unlimited To Go
offering at $9.99 USD per month. Microsoft's pricing then would seem to be hardly market-leading, and I firmly believe market-leading is where they need to position themselves to make serious in-roads on the already established players. If I can get unlimited music on my Creative Zen Vision:M for $9.99 USD a month from Yahoo!, will the WiFi goodies on the Zune be enough to justify the $60 more a year? I would have much preferred Microsoft to position their service with more aggressive pricing - $9.99 USD per month has a nice ring to it. We can always hope that the $14.99 USD pricing is for monthly payments, and a yearly payment would cut the price back.
The issue may be moot however, as the Zune Marketplace is going to be limited to the United States only at launch. I held out slim hope that there'd be a footnote someplace that said "Oh yeah, Canada too", but a Microsoft source confirmed for me that it was limited to the USA. This is going to be hugely frustrating, although it's not unexpected. Regardless of where Microsoft launches the Zune hardware, people from outside the USA will get their hands on the hardware. They won't be able to use the device to it's full potential though without access to the Zune Marketplace. This issue is made more glaring by the fact that the Zune will not work with any other online music services. The "Zune Experience" might be easier than other services, but the question is how quickly will Microsoft be launching the Zune in other countries? MSN Music still isn't available in Canada, though they did launch in seven other international markets (Australia, Germany, France, Italy, the Netherlands, Spain and the United Kingdom). Will the Zune launch in more countries, and faster? I sincerely hope so.
A word about track pricing: 79 Microsoft points converts to 99 cents USD, which is standard for the market. I hope that pricing will be different when the Zune launches in other markets:
79 points is $1.26 Canadian
, which is 27% more expensive than the 99 cents CAN iTunes users in Canada pay. Interestingly enough, Darius (who's in Australia) tells me that the $1.30 Australian that 79 points converts to is less expensive than iTunes in Australia. It will be interesting to see how this plays out in international markets.
There are still many unknowns: what about Zune Marketplace on multiple PCs? One would hope that, at minimum, they'd match Napster's three-PC offering, though as someone with six regularly-used PCs in his home, I'd love to see a more aggressive offering. What about multiple Zunes on one Marketplace account? Questions, questions.
---