Monday, August 20, 2007
Posted by Jason Dunn in "Zune Accessories" @ 07:00 AM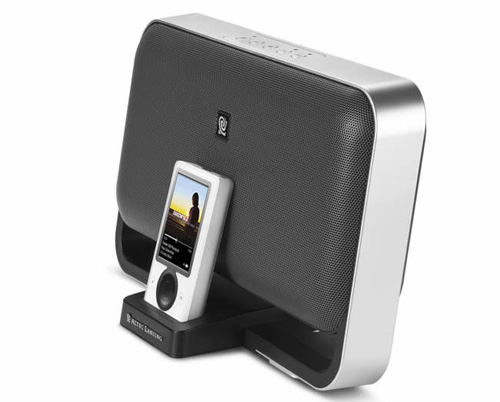 Product Category:
Speaker dock
Manufacturer:
Altec Lansing
Where to Buy:
Low Price Search
Price:
Ranges from $96.99 to $149.95 USD
System Requirements:
A Zune for full functionality, or any MP3 player with a 3.5mm audio jack for sound (power will not be supplied to non-Zune devices).
Specifications:
SOUND PRESSURE LEVEL (SPL): 100 dB. TOTAL CONTINUOUS POWER: 60 Watts RMS. SYSTEM RESPONSE: 60 Hz - 20 kHz (-10 dB). SIGNAL TO NOISE RATIO: @ 1 kHz input: > 70 dB. DRIVERS: (per Satellite): Two 3" full-range drivers and two silkdome 1" tweeters. DIMENSIONS: 14" (W) x 5.4" (D) x 8.2" (H) (354 mm (W) x 137 mm (D) x 208 mm (H)).
Further specifications here
.
Pros:
One of the few portable speaker systems for the Zune;
Recharges the Zune;
Attractive industrial design.

Cons:
It just doesn't sound that good;
No way to switch Zune functions or playlists
Weak to non-existent bass response;
No option for battery power, so it's not truly portable.
Summary:
Being the Zune fan that I am, I have a natural inclination to applaud any company willing to release Zune accessories in the iPod-saturated market we live in – so it's safe to say that I was somewhat pre-disposed to like the Altec Lansing Zune speaker dock. Despite a lot of nice features, it just can't deliver my music the way I want to hear it – but my ears are different than yours, so this may still be the solution you've been looking for.
Read on for the full review!
Read more...
---