Saturday, November 4, 2006
Posted by Darius Wey in "Zune Talk" @ 05:18 AM
"Overall, the Zune is a well-designed portable media device with good playback performance, a snappy processor, and an excellent interface. Wi-Fi sharing worked well, but prospective owners should know that its format support, especially for videos, is limited. The Zune looks like a good fit for MP3 player novices."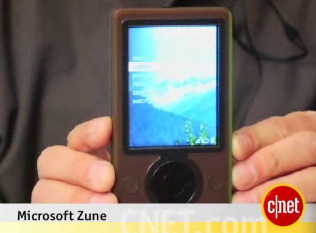 CNET's James Kim got some hands-on time with the Zune and whipped up a short video preview and a reasonably-sized article. Unlike
Engadget's video
which has a greater emphasis on the software layer of the Zune device, CNET's video pokes around some of the hardware components, so do check it out. The article covers a lot of points, though one worth highlighting is the issue of file support. By now, you're probably aware that the Zune is not PlaysForSure-compatible, so all of your existing DRM'ed WMA tracks won't work. Native WAV and WMA Lossless are apparently out the door as well, so that leaves you with MP3, unprotected AAC, and Zune's WMA (tracks you'll end up pulling from the Marketplace). Video support is weaker, with the Zune supporting WMV only. There's no love for DivX or XviD. MPEG-4 and H.264 aren't supported natively, though the Zune software on the PC will convert these to WMV. On the topic of video, you can't share them wirelessly, unlike music and pictures, which is understandable considering movie-length videos would take an eternity to send over Wi-Fi (either the battery or user's patience would suffer a miserable death). Pictures are limited to JPEG, and unfortunately, the Zune software won't convert other picture formats to JPEG, so this is something you'll have to perform manually (boo!). Otherwise, the Zune appears to be a smashing device. I certainly hope that Microsoft will solve some of these file support issues with an upcoming firmware update. The Xbox 360 team have done an excellent job at adding new features, so fingers-crossed, the Zune team will follow in their footsteps.
---