Friday, June 12, 2009
Posted by Adam Krebs in "Zune Events" @ 09:00 AM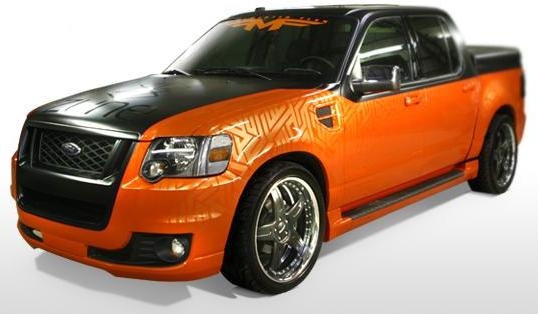 Funkmaster Flex and Zune are giving away this tricked-out Ford truck loaded with all sorts of goodies:
Win a 2008 Ford Sport Trac truck designed by Flex and loaded with all the latest tech toys from Microsoft! The custom SUV includes:
8" and 6.5" Kicker speakers in front doors, with custom fiberglass pod
6.5" Kicker components in rear doors
Four 8" Kicker subs behind rear seats, installed in a custom sub box
Two Kicker amps
Car PC powered by Microsoft Windows XP mounted in center console
Internet on the go with Sprint wireless AirCard
TV on the go with Slingbox
Wireless keyboard and mouse
Two 7" headrest monitors featuring built-in DVD player
One 10" flip-down monitor with VGA input
One converted factory screen to display movies, computer, and Xbox 360 in-dash
Custom Zune display mount connecting to trailer hitch to display Kicker Zune player
Full Katzkin custom interior
Suede headliner and interior parts
Xbox 360
Custom Zune paint job
Now before you get too excited, keep in mind that it's limited to US-only (and you've got to have a valid drivers license, so no kids either). That said, for those of us licensed, US-based drivers, you can enter daily to increase your odds. The drawing is September 8, which as GotZune points out, is the same day rumored for the launch of Zune HD... coool. Good luck to all!
---