Tuesday, May 15, 2007
Posted by Darius Wey in "Zune Talk" @ 09:42 AM
"These photos claim to show a first-gen Zune running a firmware 2.14 that can purchase and download tracks over Wi-Fi with Microsoft points. They come from the same friendly Zune source that sent us the first photos of Zune 2.0 that some readers thought were Photoshopped. I can't tell if this is merely a first-gen Zune showing just an image of a firmware/download screen, or the true thing. What do you think?"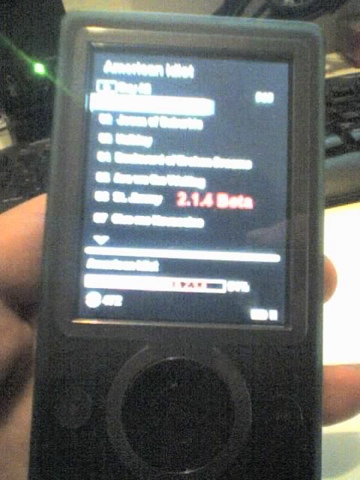 In response to
Gizmodo's thought-provoking query
, I'm calling this one out as a fake. Aside from the fact that this story has stemmed from a source who offered us
a clear fake of the "Zune 2.0"
a few weeks back (yes, check out those repetitive ripples in the screen two-thirds of the way down), there's something about the red "2.1.4 Beta" text that just doesn't smell right. Not to mention the lack of a Wi-Fi icon and the infamous blurriness of the shots that we've come to associate with all things faked/leaked. Your thoughts on this one?
---