Thursday, December 13, 2007
Posted by Adam Krebs in "Zune Announcements" @ 09:45 PM
Included (according to
Cesar
):
Improved overall stability and performance
Ability to view Favorites on your profile and the ability to remove a favorite
Most played artists will be displayed on your Zune Card, including three of the top songs for each of those artists (based on community usage)
Zune Gadgets Page: http://social.zune.net/profile/gadgets.aspx
Ability to view up to 24 recently played songs and 24 most played artists (increased from 5)
Easier to remove friends (directly from the friends activity module)
Timestamp for your recently played songs
Song and album information is now displayed in the send dialogs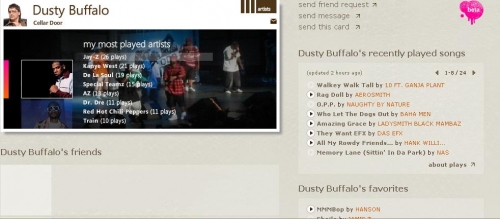 I'm seeing a lot of the "stability and performance" upgrades, especially in Firefox, though for some reason, a few of the features are quirkier than last time (the "add to friends" link seems to only work when it feels like it, logging in is similar, e.g.), though this may just be due to Firefox's own weirdnesses.

Also, I got kind of excited by the idea of being able to remove a "favorite song," but I guess that isn't fully there yet either (or I'm missing something). I'm also beginning to see a bit of feature creep, as the lists don't seem to be scaling well to the design of the page. I hope they do something about that in the future, but for now I like the integration between the more static HTML and the cool Flash design.
EDIT: I knew I wasn't crazy! Jay-Z, my top-played artist, now shows 25 plays, when just yesterday (see above) it showed 26. The same thing with De La Soul a couple days ago (20 down to 19). Social seems to pick-and-choose which songs it wants to have show up on the "played" list. Sometimes, songs I know are supposed to show up (because their metadata is correct and have shown up before), simply don't. It's a little frustrating, and I hope it's just a small issue that'll be fixed soon. Then again, this is a beta...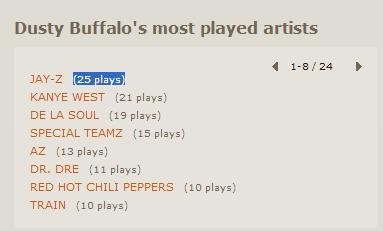 P.S. Not sure where Train came from... I looked through my computer and I'm pretty sure I don't have any of their songs...
---