Tuesday, March 11, 2008
Posted by Adam Krebs in "Zune Buy & Sell" @ 11:00 PM
It couldn't last forever. Now those free, laser-etched designs of the Zune Originals series will cost ya. Microsoft quietly made the switch sometime over the last few weeks (if not the weekend) according to forum jockeys riding the Zuneboards. The Tattoo Series is now $10 or $15 for the Artist Series. Custom engravings are still free. Of course, there's no better way to keep those Zunes original than to charge cold, cash money for off-the-shelf designs.
"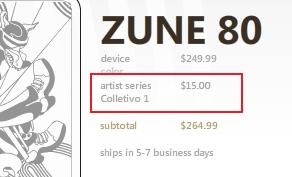 I agree that it's a little whack to charge $10-$15 for a mass-produced etching, but I can also imagine that it costs a good deal of money to run an operation like this. Oddly, while they've decided to charge for these "off-the-shelf" designs that are standard throughout the line, text inscription, the one truly unique customization, is still free. Go figure. I guess they couldn't justify "free for a limited time only" without actually limiting the time for which it was free.
Update: Fixed atrocious grammar and re-formatted title.
---