Thursday, September 11, 2008
Posted by Adam Krebs in "Zune Talk" @ 09:30 AM
"More than 450 radio stations belonging to Clear Channel, CBS Radio, Beasley, Bonneville, Citadel, Cox Radio, Emmis, Entercom, and Greater Media are now tagging their songs with RDS technology for Microsoft's Zune portable media player, and more stations will be coming on board soon. The 'Buy From FM' song tag is an encrypted digital code that identifies a specific song. The code is embedded in an analog FM broadcast, and when a listener 'tags' a song, it can be purchased and downloaded to a Zune immediately (if the user is in a WiFi hotspot) or queued for later purchase. The technology isn't Zune-specific, and other consumer electronics manufacturers may decide to offer the feature as well. 'Radio's decision to push the digital envelope doesn't mean that our analog broadcasts need to be left behind,' said Clear Channel Radio President/CEO John Hogan. 'Clear Channel Radio will have 450 stations live with RDS song tagging at launch. And we applaud Microsoft's leadership and shared commitment to making cutting-edge entertainment experiences available to the masses.' "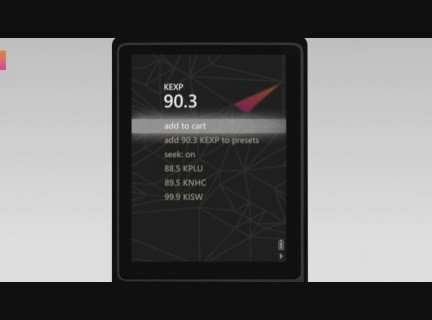 It's always nice to see broadcasters actually using their own standards, and even nicer when it benefits me, the consumer. Such is the case with this new push to increased RDS tagging on radio stations, especially now that the data is useful for more than just song identification on the go. As features on every Zune since day one, the wifi and radio have up to this point been only minimally useful by themselves, but with the 3.0 update it looks like Microsoft is finally integrating the two in a scenario that will help me discover music easier, and ultimately want to listen to the radio more.
But, as Pocket PC Thoughts' Paul Martin pointed out, many stations still do not have RDS for their signal, and a DJ wishing to play older or more esoteric material will probably not have the correct tags on the song. If you think managing your music library is difficult, I can only imagine what kind of effort it would take to tag 2-3,000 songs correctly. RDS tagging isn't Zune-specific, and this initiative will be useful in other applications such as in-car stereos and home theater setups, and will provide a leg-up against the iTunes/HD-Radio collaboration. I can't wait to get my hands on the 3.0 firmware come September 16!
---