Saturday, November 15, 2008
Posted by Adam Krebs in "Zune Content Creation & Management" @ 03:30 PM
"The most recent installment of the Zune newsletter includes a survey question that hints at the possibility of the Zune being used as additional Xbox 360 storage. After selecting "Yes" to the first question, readers are asked "Have you ever connected your Zune to your Xbox to do any of the following?" The first response to the question is "Use my Zune hard drive for extra Xbox 360 storage." One could interpret this as meaning that Microsoft is considering making the Zune official backup storage for saved games, Marketplace downloads, etc. Yes, that would be a great reason to buy a Zune, but keep in mind that the question could refer to using the Zune simply as a means to upload pictures and audio tracks to the 360 (although that would be ridiculous because nobody would give a damn). And, of course, it may mean nothing at all. We shall have to wait and see if Microsoft does the smart thing here."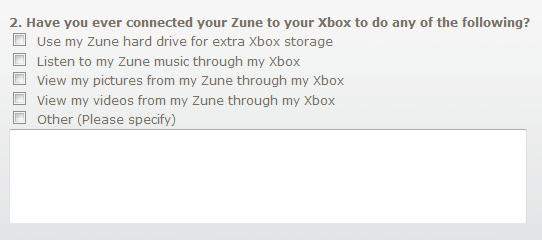 While I'd like to believe something like this is a sign of what's to come, I just don't see it happening. Why would I want game content on my Zune if I can't do anything with it? What purpose does it serve to carry around my Halo 3 stats with me everywhere? Even if I could, I doubt I'd beam my gamerscore to a buddy the same way I would with a new track. I think, and as Christopher Price points out, that the question itself was just poorly worded:
"What the question meant to ask was "Are you storing pictures and video on your Zune, because your Xbox 360 hard drive is full from game and marketplace content?" When you realize that's what they were asking… you can see how the rumor got started. Microsoft does want to know that this is an issue, because over on the PlayStation 3, people can use all kinds of storage options… it takes only a few minutes to upgrade the hard drive with one of your own (and not pay Microsoft's six-times-cost markup for their puny 120 GB hard drive). If the PS3 is luring away savvy customers over being able to have unbounded storage options… Microsoft needs to tackle that issue (with more than the obnoxious-highway-robbery of their hard drives, of which, I refuse to pay… and use my Xbox 360 less because of it)."
---