Friday, October 9, 2009
Posted by Jason Dunn in "Digital Home Talk" @ 07:00 AM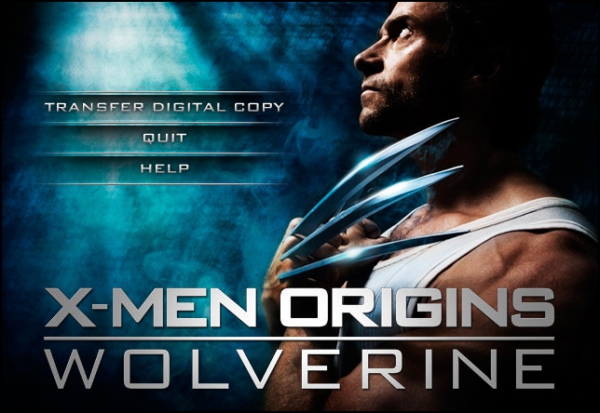 There are a lot of things that I don't like about Blu-ray as a format, but as the industry has settled on it as the physical standard for HD discs, things have slowly started to improve. One such improvement is the increased proliferation of Managed Digital Copy on Blu-ray discs. It works like this: in many new Blu-ray packages, you'll have the Blu-ray disc, a regular DVD, and a small card with a code on it. When you insert the regular DVD in your computer, you'll typically get an auto-loader (pictured above) for the movie, and it will give you the ability to transfer a DVD resolution (or lower if they offer a portable device version) copy of the movie to your computer in one of two DRM-laden formats: iTunes MPEG4, or Windows Media Player WMV. In each case, the code you're provided is used to authenticate the WMV and MPEG4 versions of the movie. The neat part is that you can get both the iTunes and Windows Media Player versions of the movie - I did this with four Blu-ray discs I purchased.
The DRM is of course where this scenario starts to fail, but it's not too bad if you're an iTunes user - which is somewhat painful for me to admit. There are a lot of things I don't like about iTunes, but the way it handles DRM for video is the way it should work. The permissions for you to own the content are stored on the iTunes server, so when I migrated my computer from Windows Vista to Windows 7, I simply re-imported my movies, and authorized my computer. It was completely seamless and trouble-free.
The Windows Media Player scenario was a complete disaster. Before wiping my system I tried to export the DRM tokens for the movies, but was unsuccessful. It had been a few years since I'd messed with Windows Media DRM, and I thought there was a way to export the DRM permissions, but I couldn't figure it out. After the system wipe I tried playing the DRM-laden files again, and they asked me for the coupon code to re-authenticate. The problem? Upon entering the code I was given an error stating that the authentication number had been exceeded. It seems the movie studios will give you permission to transfer the movie to your computer only once; you're expected to use that computer forever. Oh, did I mention that the DRM used isn't compatible with the Zune? Even if you have the right DRM token on your system, the files will only transfer to PlaysForSure devices. Sorry Zune HD owners.
Blu-ray digital copy is a mixed-blessing: it's pretty much seamless if you're a iPod user, but if you're not, I suggest learning the esoteric art of ripping Blu-ray DVDs [affiliate] and making your own DRM-free copies of the movies you own. It's the only way to use the content you paid for the way you want to use it.
Jason Dunn owns and operates Thoughts Media Inc., a company dedicated to creating the best in online communities. He enjoys photography, mobile devices, blogging, digital media content creation/editing, and pretty much all technology. He lives in Calgary, Alberta, Canada with his lovely wife, and his sometimes obedient dog. He's still searching for the ultimate netbook.

Do you enjoy using new hardware, software and accessories, then sharing your experience with others? Then join us on the Thoughts Media Review Team! We're looking for individuals who find it fun to test new gear and give their honest opinions about the experience. It's a volunteer role with some great perks. Interested? Then click here for more information.

---