Wednesday, December 3, 2008
Posted by David Tucker in "Zune Talk" @ 05:00 AM
One of the best functions of the Zune is that it lends itself to music discovery in several ways. The sharing feature that the Zune launched with is the most well-known and oft-ridiculed method. Microsoft has come out with several iterations of the Zune firmware since then and what most people don't realize is that the social aspects of the Zune have been upgraded significantly. In fact, many of the complaints I've seen about the Zune center around the fact that it doesn't perform functions that it actually can perform. Without owning a device, however, its pretty difficult to understand all of the nuances of the Zune.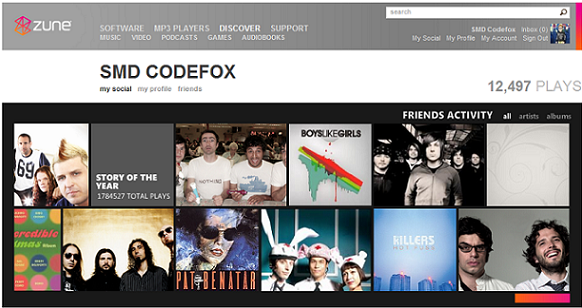 The Zune device has always had a menu option for wireless sharing. Originally that option was limited at best. It was the right idea but three days was too limited to serve any real value. Until the day comes that the Zune is everywhere the feature will always struggle to find acceptance. Its OK though because there are better ways to share music with your friends. Much better ways, actually. In fact if you have a few friends in your social circle on the Zune it can change the experience quite a bit! So how does this whole social thing actually work? Glad you asked!


The Zune firmware has a menu option called Social. Under that menu, you'll find the expected wireless sharing inbox and screen that lets you see nearby Zunes. You know - the screens that are usually blank. More importantly though for the music discovery and social aspect is the Social section called "friends". This is where the exciting parts of the social truly reside. This all starts back on the desktop though, so let's start there.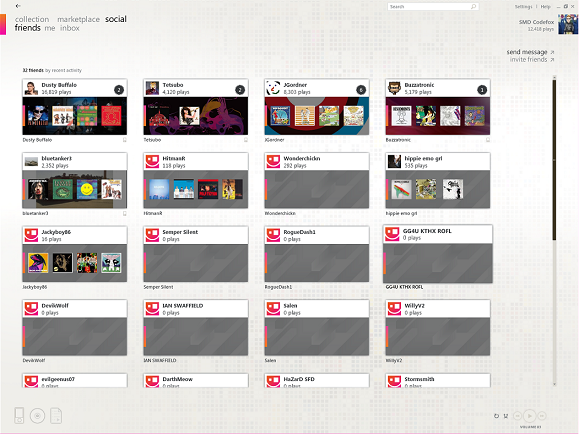 Everyone who signs up for the Social creates a Zune Card. This card allows you to show people what you've been listening too and how often you've listened to it. Its actually very comprehensive and really gives a complete picture of your music preferences all the way down to letting you list your favorite songs. As you can see from my Zune Card, I listen to a lot of anime O.S.T.'s. The doubters are probably still saying "So what?" but this is really only a small part of the overall Social. We have a Zune Card so now its time to head to the Social section of the Zune desktop software.

The desktop software gives you a very similar experience to what you see on the website which is very nice in its own right. This is where the music discovery really starts though. I'm going to use our own Adam Krebs as an example because he listens to a lot of music and I think he listens to a lot of things that I would never look at. After going to the social section on the desktop, I'm presented with a list of my friends' Zune Cards. Clicking on Adam's, I get to dig down into his music.

The first tab you start on is the "Recent" section. Here you'll get a list of Adam's 24 most recent plays. Assuming they're available in the marketplace (and Adam does seem to have quite a bit that's not actually), you can either listen to a sample, or as a Zune Pass member, I can simply play his track list. Anything that I like I can easily add to my own collection. Even better, if I want to see the rest of the album or even the artist, it takes nothing more than a right click and selecting "More about this album". You'll be taken right to the album and the other albums from that artist will all be available.

That's a pretty good start. The fun part about the recent plays section is that its pretty random. You don't really have any control over what appears there other than whatever you've been listening too. Maybe you want to highlight a few artists for your friends though. Easy enough! Right click on your favorite song and select "Mark as favorite". When I go to Adam's favorites, I see he's listed six songs there. From here you can play and add music just like you did in the recent plays section.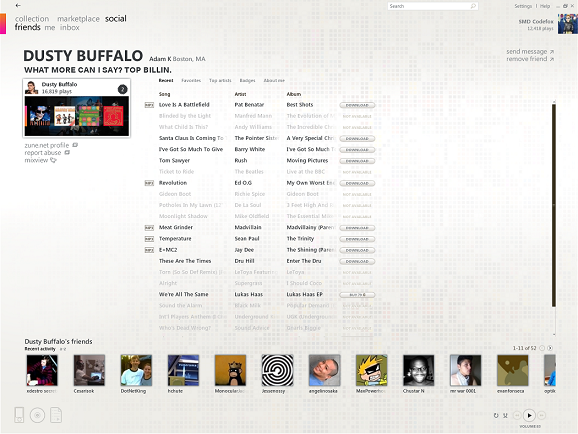 You're not done yet. No, there's one more section in the social to let you explore your friend's music. We all have our favorite songs but we also tend to have entire artists that get more listens than others. This isn't a section you have any control over. Like the recent plays, this section reflects your music habits. Adam's give me a choice of listening to some music from the Gorillaz and Kanye West among others. The section still functions like the other two and it allows me to play any of the music that's available in the Zune marketplace and check out more of what those artists have to offer.

Let's say I really like Adam's music preferences (I do actually...I've added songs from his lists pretty often!) and want to share that with my friends. Well, I can right click on his Zune card and select "Send this card" and send his card to any of my friends. I've never actually done this but I assume that if they want to add him the process is the same as the usual addition of a friend so Adam would have to approve it.

I hope that gives a better idea of how much you can do to really explore and share music with your friends using the social. Wireless sharing really only scratches the surface and much less important aspect of the overall experience. You what's pretty cool about all of this though? This is only half of it. Right click on Adam's profile and select "Sync with Zune".
---