Monday, January 8, 2007
Posted by Darius Wey in "Zune Accessories" @ 10:45 AM
"Timed to coincide with the release of Microsoft's Zune media player, the Octavio 1 speaker system fills your home or office with pure, powerful music and movie sound. The Octavio's central feature is the built-in Zune cradle along the top, which both charges the media player and sends its audio and video signals to the amplifier for audible playback. The Octavio 1's video output, meanwhile, connects directly to a TV, so you can enjoy your Zune photos and videos on the big screen without running additional cables across the floor. And when you're not listening to or watching your Zune, you can connect the Octavio 1 to a DVD player, video game console, or other video source. In short, the Octavio 1 serves as an integrated, high-end entertainment system that makes everything from music to movies to games sound rich and robust."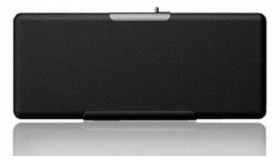 The "Designed for Zune"
Octavio 1
speaker system from Australian company, VAF, is on
Amazon
and available for order (shipping soon) on a first come, first served basis. There's a lot of power under the hood, but at a hefty price: $499.99 USD a pop. Any of you considering picking one up?
---