Wednesday, December 20, 2006
Posted by Darius Wey in "Zune Talk" @ 08:45 AM
We've had a couple of days to acknowledge that Firmware 1.2 for the Zune was a godsend for having introduced significant enhancements in performance across the board. But there's an extra surprise - one that remains undocumented, so you'll have to see it for yourself to believe it.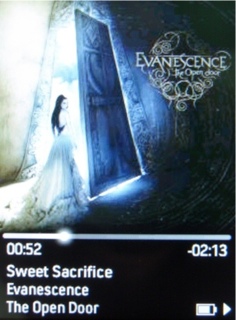 You all know that the Zune has a habit of taking high-resolution album art embedded in files, downgrading it to an offensive 200 x 200 (or thereabouts), and then upscaling it to 240 x 240 to fit its QVGA display. Blech! That nasty habit is gone with Firmware / Zune Software 1.2. I performed a little experiment today. I decided to start fresh by nuking the contents of my Zune and the Zune software, re-adding the media to the Zune software, and re-syncing my library. Each and every track in my library has 480 x 480 album art, so if the Zune wants to make album art look good, that's a perfect ingredient to work with. After the sync, I loaded up my first track and noticed immediately that album art looked clearer than ever before. In disbelief, I loaded up a few more and was not left disappointed. The Zune was actually taking advantage of the 480 x 480 album art and scaling it appropriately (without the 200 x 200 intermediary) to 240 x 240 for its QVGA display. There was a catch, though. Artifacts were still visible (but less pronounced), so the Zune was still compressing album art to a degree. But hey, you can't have too much of a good thing all at once. Perhaps Microsoft will tweak this in the next firmware update. ;-)
And now it's your turn to savour the moment. Delete an album or two off your Zune and Zune software, or your entire music library if you're feeling gung-ho, re-add the media, ensure that you have relatively high-resolution album art embedded in your tracks, and re-sync. Can you see the difference?
Note:
If you're familiar with the Folder.jpg album art system in PlaysForSure devices, you may be interested to know that the Zune utilizes a similar mechanism. Prior to the availability of Firmware / Zune Software 1.2, 200 x 200 Folder.jpg files would be generated from embedded album art, transferred and converted to another file format on the Zune, and then upscaled to 240 x 240 (blurry). With the updates in place, Folder.jpg files are now 240 x 240 in size - perfect for the Zune's QVGA display. The end result? Clarity.
---