Friday, March 14, 2008
Posted by Jason Dunn in "Zune Talk" @ 10:00 AM
"In response to Apple's chiding remarks regarding the Mac OS X 10.5 Leopard launch – urging Microsoft to "start their photocopiers" – the Redmond-based software and electronics giant has applied for a patent to Cover Flow-style OS interface. The patent states that the idea revolves around "stacking data wheels" and is primarily designed for mobile environments, potentially the Xbox 360, according to an analysis of the patent by MacNN."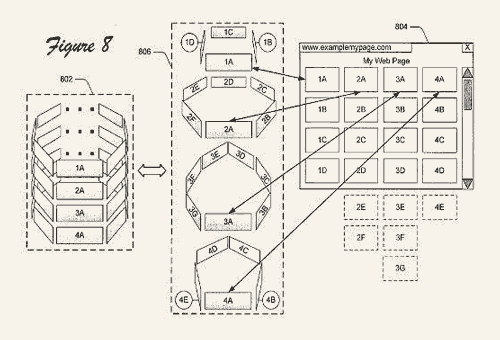 You'll have to excuse the above text, it was written by your sadly typical snarky Apple-lovin' blogger where everything Microsoft does is automatically bad, and everything Apple does is automatically good (even when it clearly sucks).
But back to the subject at hand: this looks like it might be a cool implementation, especially since it seems to go far beyond Apple's coverflow by involving both the vertical and horizontal axis. And unless I'm mistaken, the inclusion of the Web component likely means we'll see this implemented in desktop software as well as on devices. Perhaps this is something we'll see in the next version of the Zune? I'd love to see it on the Xbox 360 as well, because right now the "let's list all your music in a big long list" is a very poor way to access my music library.
---