Wednesday, November 15, 2006
Posted by Darius Wey in "Zune Talk" @ 12:00 PM
"When we last left off, the consensus was that Microsoft was still planning on rewarding song sharing with the Zune. Now we've got pretty much confirmation - unofficial, that is - that Microsoft is planning this feature. At a conference in Seattle this past Saturday, both J Allard and Christina Calio, both from the Zune team, talked about implementing such a system. The Zune team plans to reward people with Microsoft Marketplace Points, the same points you use on both Zune Marketplace and Xbox 360 Marketplace."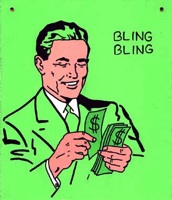 Courtesy of
Artghost.com
So after all of
last month's suggestions
, it looks like you
may get paid to share after all
- paid in Microsoft Points, that is - although, I don't think it'll be as simple as it sounds. For example, Microsoft will have to put in some safeguards to prevent unauthorized sharing (i.e., spamming one's own secondary device). And how will offline users benefit from Points? So many questions, so few answers.
---