Monday, November 13, 2006
Posted by Aaron Roma in "Zune Talk" @ 11:15 PM
"As we all know, purchasing songs, videos or games from the iTMS only requires a customer to create an account and have a valid credit card. Thus, like most other business transactions, you purchase a good and the price of that good is billed to your credit card. It works the same way at the grocery store, at the gas station or in a restaurant. And for the most part it seems like a pretty good system. Plenty of people have credit cards and they understand the concept of purchasing items with them. So, how, you ask, could Microsoft screw this up?"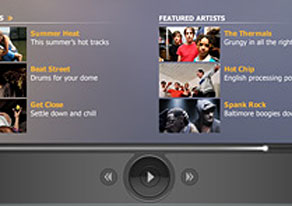 James Stoup over at Apple Matters offers up a rather strong opinion of Microsoft's decision to base the Zune Marketplace on their Points system, rather than cold hard (plastic) cash. This has been a topic of much discussion since the details became public. While I detect just a tad bit of bias in Mr. Stoup's post, he does bring up some valid points, while completely overlooking some of the benefits of such a system. His post did get me thinking about the pros and cons of the point system. I won't go into detail about the drawbacks (purchasing in preset amounts: $5, $15, $25, $50; the points "conversion": $1=80 points), you can gleam those from the above article. In the best scenario, the Zune Marketplace would support points AND credit cards. (Maybe this will be rectified in the future.)

Since we are limited to points for now, I do want to point out a few of the benefits of the point system. The most glaring benefit being the integration with Xbox Live Marketplace, and being able to use these points to purchase content from both. Also, using the points system facilitates parents setting up an "allowance" of points for their children, rather than turning Susie loose with a Credit Card. In my opinion, however, the biggest benefit could still be yet to come. The points system allows for the creation of a "micro-economy", that could enable the distribution of custom-created content. Imagine creating a hot new background for the Zune, and then being able to "sell" that background for 10 points. Your new garage band wants to get it's name out there? How about selling your custom tracks for 25 points. What about the possibility of Microsoft extending it's XNA Game Studio to the Zune for custom game creation? Now you can see your addictive new game for 15 points. There is a similar system to this used successfully in the eBook world, where you can purchase short stories for pennies from a "micro" account that you preload with $5 at a time. What are your thoughts on the Microsoft Point system?
---