Tuesday, December 18, 2007
Posted by Jason Dunn in "Zune Hardware" @ 11:22 AM
Zune Insider
, there aren't any new features in this firmware update, but it does contain a fix for the Zune 30/80 battery life issues - and believe it or not this is the first I've heard of the Zune 80 having the same sort of battery life problem as the Zune 30. That might explain why my Zune 80 battery
went dead overnight
not too long ago. Other improvements in this firmware update are improved device recognition and improved stability and reliability on sync (both USB connect and wirelessly connect).
Here's the firmware update on my Zune 30 (when I did the Zune 8 firmware update it was exactly the same):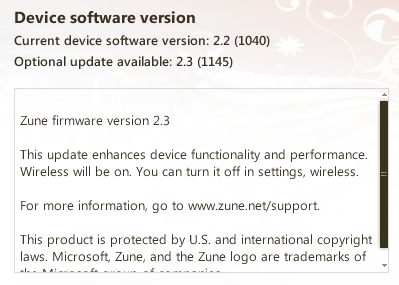 I'd update my Zune 80 as well, but the battery on it is dead - and I haven't used it since I charged it up a few days ago. Yeah, looks like I need the fix!
---