Wednesday, October 25, 2006
Posted by Jason Dunn in "Thoughts Media Off Topic" @ 10:11 AM
"Microsoft's iPod competitor, Zune, will be released on November 14. Matt Jubelirer is product manager for the Zune project. We spoke with him to get an in-depth look at Zune."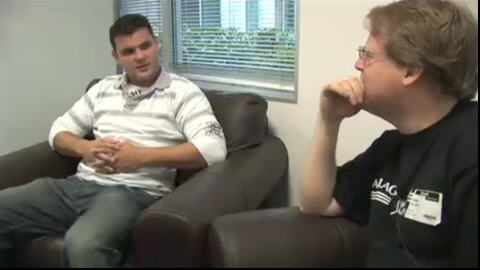 Robert Scoble made it back to Seattle to interview Matt Jubelirer, Zune Product Manager, on various aspects about the Zune. The video is 40 minutes long, and I've just finished watching it so I can comment on it. All in all, someone needs to tell Jubelirer to get a bit more excited about his own product! There were plenty of opportunities to poke fun at the iPod, but Jubelirer was apparently too polite to take any of them. He also didn't know the screen resolution, which is a bit odd - I've seen a couple of interviews with him and there's always a few technical details that he doesn't know (last time it was whether or not the WiFi data is encrypted). Watching this video, I feel like the Zune team needs a pumped-up, excited Zune evangelist type that really knows the device top to bottom, and can deliver the message with enthusiasm. Sorry Matt, it's nothing personal, but if you want people to get excited about the Zune, you need to show some yourself.
In terms of things that we learned from the video, there's not much that's new here. At the 32 minute mark they start to talk about how the Zune will work with the Xbox. Scoble asks if he can put HD video on the Zune and look at it in full resolution using the Xbox. Jubelirer responds by saying that the files can remain at their native resolution - which seems to support what Scoble wants to do - and Jubelirer says it's a "flexible option", which means it might be an option in the Zune Marketplace to control the transcoding. At the 33 minute mark Scoble picks it up and says it's lighter than the "competitive products", meaning the iPod, which echoes what
Jake Ludington wrote
when he compared it to his iPod. The reality is that the Zune is the same weight a a 30GB iPod, but it must be better distributed over it's larger frame in order for so many people to think it weighs less.
---