Wednesday, January 23, 2008
Posted by Rocco Augusto in "Zune Talk" @ 01:00 PM
"In the first two weeks of 2008 the number of people consuming my personal podcast with the Zune is WAY up. Over all my show download numbers are up about 15%. This is the largest growth my show has seen in a very long time. What this proves is that when you put Podcast front and center in the Zune Interface like the Zune team has, and make it a integral part of the Zune MarketPlace people are bound to check podcast out. Where Apple has largely failed in iTunes is that they have made podcast hard to find and a buried feature within the iTunes Interface. Today it is nearly impossible to find content that is fresh, the iTunes podcast interface is a wasteland of thousands of podfaded shows and huge numbers of single podcast episodes put up by network marketerís."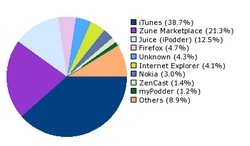 (Sorry about the tiny image, I couldn't find anything bigger!)
Over at RawVoice, there is an incredibly interesting article up about recent podcasting trends and the Zune. In this instance users of the Zune and Zune Marketplace software make up 21.3% of their listeners! This might not seem like a lot, but take iTunes for instance, whose user base makes up only 38.7% of their listeners. Now seeing how the new Zune software and hardware has only been on the streets for a few months now, compared to the many years iTunes has been around, it appears that Apple might have to start taking the
"little media player that could"
a bit more seriously. Who knows, old Stevie might just take a look at this and declare that all of the Zune Marketplace users have joined good old Robbie Bach in a round a drinks, since you know,
being a drunk is the only reason why anyone would want a Zune
.
---