Friday, February 13, 2009
Posted by Chris Gohlke in "Thoughts Media Off Topic" @ 10:00 AM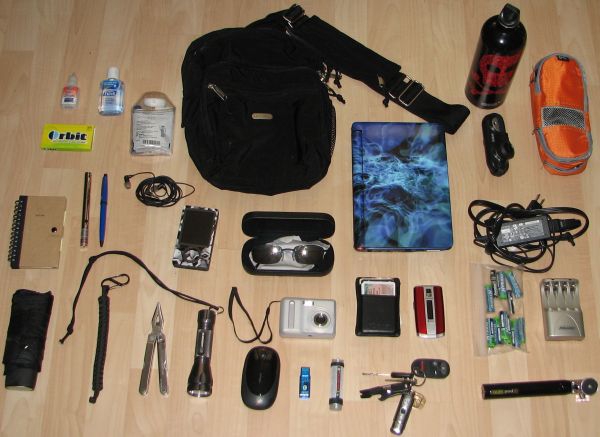 Laptops, phones, MP3 players, cameras, gaming systems, etc. The dirty little secret of having a bunch of portable electronics is that even with some convergence, a lot of us still have too many items to just carry around in our pockets, necessitating even the manliest of us to carry some sort of bag. Since the ladies already carry purses for the most part, it is a challenge as a guy to find the right bag to carry all of our stuff. So I'm curious, how much stuff do you carry around on a daily basis and how do you carry it? I'll start off.
Like a few of you, I've got a bag fetish. I've probably gone through 6 or 8 different bags before settling on the current one, a Baggallini Messenger Bagg. I've got a very similar bag from Eagle Creek that is a bit bigger, but I don't like the strap as much. Now, for the gear, starting from the left - eye drops, hand sanitizer, first aid kit, gum, notepad, green laser pointer, pen, 30 GB Zune and Shure earbuds, umbrella, 10 feet braided paracord and Niteize carabiner, leatherman, flashlight, sunglasses, Polaroid digital camera, Kensington wireless mouse, Bluetooth dongle, 8 GB Corsair Survivor, Acer Aspire One, wallet, Samsung Hue, and keys (with a Gerber Artifact and 1 GB Flash drive which is soon to be replaced by an Ironkey).
Down the right side are items I add for trips - Sigg water bottle (being replace by a Klean Kanteen, pencil case for various chargers and cables, Monster Outlets To Go, Acer Aspire power adapter, Hybrid rechargeable batteries and charger, and a quickpod.
---